Imagine a medical lab able to establish a diagnostic at the patient home using both mobile IVD devices and blood sample, conncected with existing medical labs.
80%

of the world's population had limited access to testing laboratories. Now it's over with Anywhere Lab !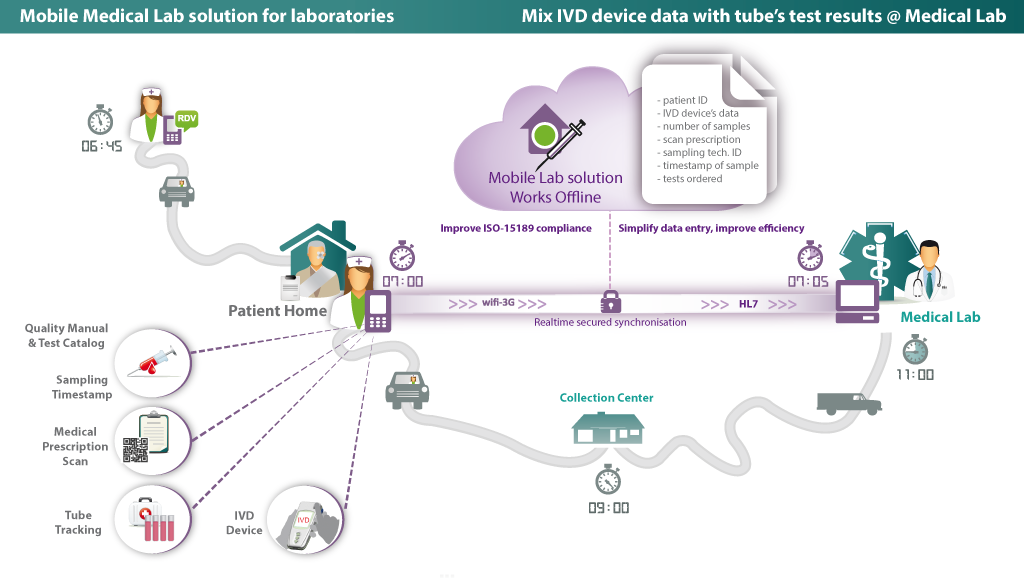 The app comes free of charge for the phlebotomist (home care nurse, technician or doctor).
No more writing to do - the app works with the voice recognition of the mobile phone.
Ability to create mixed lab order with mobile IVD device's results and blood sample connected with the medical lab.
User ID and sampling timestamps are automatically filled in by the application itself which improves ISO-15189 compliance.
To create a new request, the phlebotomist just has to scan a unique patient's ID (Medical Lab barcode or QR Code).
The medical order (paper) is scanned using the mobile phone camera.
If the medical order is reccurent, the picture and associated tests are made available until the expiry date.
Patient information (with scan of the medical order) is shared between all phlebotomists within the same firm.
Additionnal information required by the ISO-15189: 2012 standards are easy to use as they come with check-boxes or drop-down lists.
Sampling history of a given patient is shared on all smartphones from phlebotomists working within the same firm,
Sampling guides and test catalogues are directly accessible in the smartphone and can be updated by the laboratory in real time.
Once validated, the dematerialized file is sent to lab using wifi, 3G or 4G.
Works online and offline and synchronizse upon network detection without user interaction,
The app allows to integrate appointments and visualize patient locations on a map.
Mobile Phlebotomist can call the patient or launch the phone's GPS to guide to the next appointment with one single touch.